Just lately I've been obsessing over buddha bowls, the nutrient-dense, waistline loving, hormone cherishing, visually stunning, vibrantly colourful beauties that have become more and more popular over recent years.
They go by many names (buddha, nourish, rainbow, hippie), but the general consensus is that buddha bowls = vegetarian, nourish bowls = omnivore and all of the other names go with whatever fits.
I love that they're so simple to put together and basically rule-free. Just have protein, carbs and fruit or veg in your head (with the emphasis on the veg), and hey presto! You'll serve up a balanced meal that looks as pretty as a picture (often starring on Instagram).
They make a great casual meal for family and/or guests too because all you have to do is fill several bowls with various ingredients (rice, quinoa, dry baked sweet potato, spinach, lettuce, tomato, olives, avocado, beetroot et al), add some dishes and bottles containing your sauces (tahini, green goddess) or toppings (hummus, guacamole), and your fam/visitors can make their own. Easy peasy.
What's not to love right? They look like a colourful treat, are packed full of nutrients and weight loss/hormone balancing goodness and they're super simple.
Here are two (we focus on plant-based around here) that we binged on recently. They're kind of messy and unstructured which is part of their allure for me.
Crispy Baked Tofu & Sweet Potato with Tahini Sauce
Serves x 2
I've cobbled these recipes together over the years from various inspirations. Brewer's yeast comes from saccharomyces cerevisiae, a species of yeast used in beer brewing and bread making. It's rich in B vitamins and a good digestive aid. It adds – I think – a lovely, distinctive, savoury flavour. There are similar forms of brewer's yeast known as nutritional yeast and savoury yeast flakes which work just as well.
The tahini sauce is super easy to make and is really good to have on hand in the fridge to drizzle over various foods. I've given you a very basic recipe but you could change it up with garlic or herbs of your choice. Tahini is made from sesame seeds and is also a good source of B vitamins, magnesium, calcium and iron.
Crispy Baked Tofu
Ingredients:
1 packet firm tofu
1 tbsp tamari
2 tbsp brewer's yeast
1 tbsp sesame seeds
Method:
Heat the oven to 1800C
Add a sheet of baking paper to an oven tray
Pat your tofu dry with a paper towel
Cut it into cubes
Mix tamari paste, brewer's yeast, and sesame seeds together in a bowl
Add tofu cubes and mix until coated
Sit for 15 minutes to let them marinate
Add to the oven tray and bake for 15-20 minutes
Dry Baked Sweet Potato/Kumara
Serves x 2
One large sweet potato/kumara
Heat the oven to 1800C
Add a sheet of baking paper to an oven tray
Cut sweet potato into wafer-thin slices (you could use a mandolin for this)
Place on the baking sheet and dot with liquid coconut oil
Using your fingers ensure every slice is slightly oiled
Bake for 20-30 minutes
Tahini Sauce
Ingredients:
¼ C tahini
¼ C water
2-3 tbsp lemon juice
Freshly ground sea salt and cracked pepper
Method:
Stir the tahini well
Add water and lemon and mix together
Season with salt and pepper
The Bowl
Create a base of beetroot and carrot slaw and add toppings of watercress, coriander leaves, cherry tomatoes, crispy baked tofu and dry baked kumara on top. Season with freshly ground sea salt and pepper and drizzle with tahini sauce.
Egg & Edamame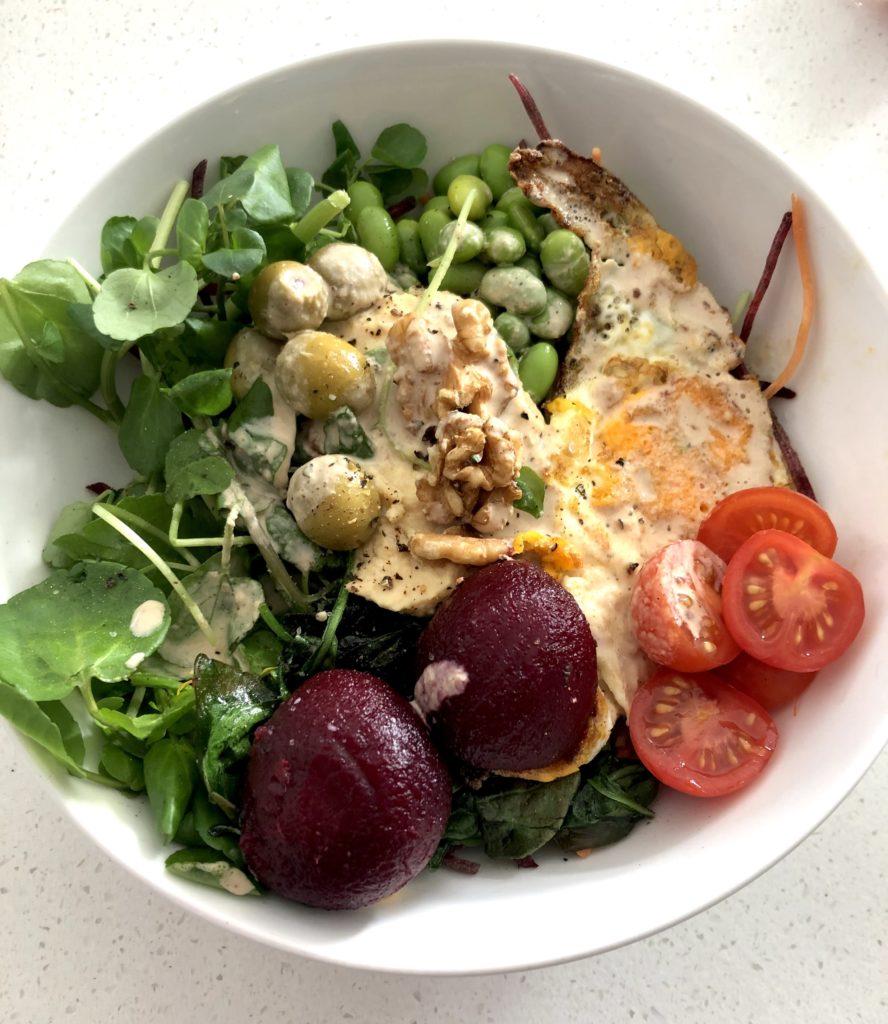 Ingredients
1 egg
1 C baby spinach leaves
1/2 C shelled edamame beans
Baby beetroot
Cherry tomatoes
Olives
Hummus
Method:
Poach or fry your egg in coconut oil
Saute baby spinach leaves
Put all of the ingredients together.
What could be simpler?
Bon appetit.
THANKS FOR STOPPING BY!
YOURS IN HEALTH & HAPPINESS 😀
Main photo © Valentin Jucov | Dreamstime.com