How to cleanse your face.
I can hear you asking – really?
Am I seriously going to cover how to clean your face?
I get that it sounds crazy for something that seems so basic. However, there are a few tweaks and tricks you can keep up your sleeve to make it a more skin cherishing experience. 😊
Think about it for a moment.
There is a right way and a wrong way to cleanse. If you're over-zealous you could leave your skin irritated. Similarly, if you're using a very harsh product your skin will become over-sensitive. By the same token if you're too gentle you may not get a good clean particularly if you wear a lot of makeup.
Either way, your complexion definitely won't love you for it and the skin is all about love.
How To Cleanse Your Face Beautifully
1. If you wear makeup remove it first by massaging your cleanser all over your face, neck and decolletage.
2. Remove with a flannel or sponge and lukewarm water.
Depending on the product you use you can often use the same cleanser for all of your facial cleansing. However, you might like to use an eye makeup remover as well, or if you wear long-lasting formulations a specific makeup remover.
3. Pat – don't rub – dry with a fresh, clean towel. Used towels can harbour bacteria.
4. Cleanse again.
Tip: Always remember to include your neck and decolletage in every step of your skincare routine.
5. Pat – don't rub – dry with a fresh, clean towel.
6. Now you're ready for the next step of your skincare regime. 😊
Double Cleansing
We call this "double cleansing" in the beauty world. I feel it's essential if you wear makeup and a physical sunscreen.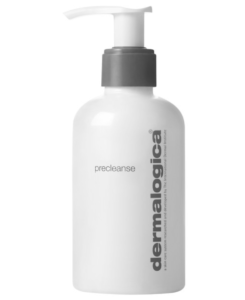 Dermalogica has a product I have always loved for this purpose. It's called Precleanse Cleansing Oil and it's formulated specifically to remove makeup as the first step in a double cleansing regime. It contains a lot of lovely oils that give it a beautiful consistency like apricot, sunflower, lavender and orange.
Beauty rating: ⭐⭐⭐⭐⭐
Shop It: Precleanse Cleansing Oil, $79
What Type Of Cleanser Should You Use?
There are several different formulations to choose from including gels, balms, lotions, oils, creams, micellar waters, and foams.
I like oils (coconut oil is a great, natural cleanser), creams, balms and lotions at Youology HQ as they're more gentle on post-40 skin which tends to be a little drier.
Tip: Estrogen often goes through very high and low peaks during perimenopause but as you move further through midlife hormonal changes estrogen declines and your skin becomes drier.
How Often Should You Cleanse?
We recommend twice a day. Once again this is very important if you wear makeup. In the morning to freshen up and in the evening to remove makeup.
1. Morning Cleanse: a morning cleanse is refreshing but it doesn't need to be full-on and a double cleanse is probably not necessary. All you are doing is removing any perspiration or toxins from the night. If your skin is on the drier side it may feel a little tight so cleansing with a creamy or oil cleanser before moisturiser will make it feel plumper and smoother again.
2. Evening Cleanse: this is when double cleansing comes into its own removing the makeup, sunscreen, pollution and the build-up of the day. It also forms a wonderful foundation for extra treatments like exfoliation, serums and night creams which tend to be richer than standard moisturisers.
Nothing feels nicer than clean, hydrated skin.
THANKS FOR STOPPING BY!
YOURS IN HEALTH & HAPPINESS 😀