A while ago I fell in love with a bread recipe made from nuts and seeds psyllium husk powder. I worked with it to make the recipe my own and then my computer broke and I lost it. And no, I hadn't printed it out. Duh!
We're currently in lockdown, I'm high risk and friends are going to the supermarket for me so I thought I'd best get cooking to spare them that task. So I searched for an original version of the recipe. I'm not sure where I first found it. I suspect the original version is Sarah Britton of My New Roots' Life-Changing Bread, which has spawned a thousand copycats. Some are good and some are not so good in that they crumble or they're not as delishimo.
Sarah's original is fantastic, holds together beautifully (that's the psyllium in it) and freezes like a dream. So I got batch cooking to stock the freezer for lockdown.
Bread is usually not my friend (bloat) especially the store brought kind but this one is delicious and so good for you. It contains no flour or yeast, is full of fibre and protein and it's gluten-free and vegan. I love it toasted with avocado or if you really want to go to town with seeds and nuts Fix & Fogg's Everything Butter is the bomb. Hummus is great with it too as is good old vegemite if you've got a fridge full of traditional spreads, and a good old salad sandwich would be yummy.
I've adapted it ever so slightly but when I made any big changes it's not the same, so why spoil perfection?
Enjoy.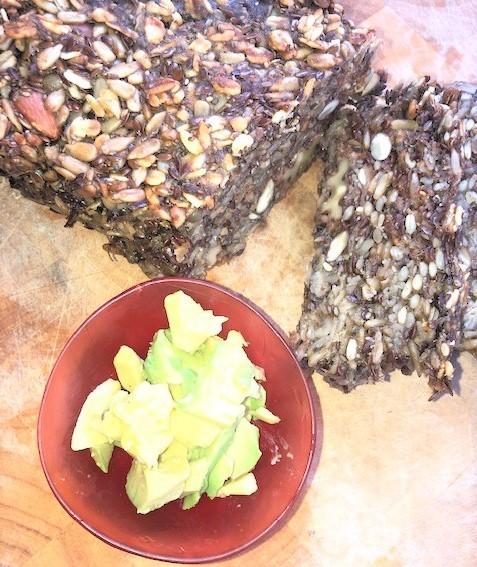 Ingredients:
1 cup sunflower seeds
1/2 cup pumpkin seeds
1/2 cup flax seeds
1/2 cup almonds
1 1/2 cups wholegrain rolled oats
2 tbsp chia seeds
4 tbsp psyllium seed husks (3 tbsp psyllium husk powder – we used this)
1 tsp sea salt
1 tbsp brown rice syrup (Sarah used maple syrup or a pinch of stevia)
3 tbsp melted coconut oil or ghee
1 1/2 cups water
Optional: we added 1/2 cup goji berries
Directions: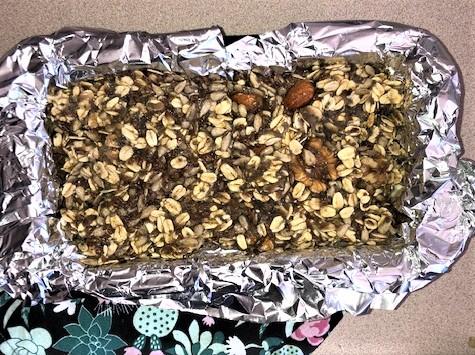 Sarah suggests using a flexible, silicon loaf pan, combining all the dry ingredients and adding them straight into it then stirring them well.
We didn't have a silicon pan so we used a traditional loaf tin lined with baking paper.
Combine dry ingredients together in a bowl.
Whisk brown rice or maple syrup, coconut oil and water together and add to the dry ingredients.
Mix well until everything is soaked with the liquid.
The mixture should be thick (add a teaspoon or two of water if it's too thick to store).
Pour into a baking pan and smooth out the top with a knife or the back of a spoon.
Let it sit for a couple of hours or overnight.
Preheat the oven to 175 C (350 F)
Bake for 20 minutes.
Remove from pan and place upside down on a rack and bake for another 30-40 minutes (we did 30).
Let it cool before slicing.
Delicious.
Thank you, Sarah. You're a genius.
Tip: The Midnight Baker bread in New Zealand is similar and you can buy it readymade here.
Thanks for stopping by,
Yours in health & happiness 🌸