Have you had times lately when you've wanted food that's just that little bit heavier? In New Zealand, the temperature is dropping and it's definitely felt like that!
So we decided we needed a recipe that could be batch cooked to share with you. It also needed to be warming and a little bit stodgy – enough to warm the cockles of your soul – and it was important it didn't add any unwanted centimetres to the waistline!
Enter this oh-so-simple vegetarian chilli made with beans, fresh vegetables and delicious spices. It's a very mild chilli (to be honest it's more of a stew but chilli sounds better 🤣).
It's So Versatile
Increase the amount of chilli we've used in the recipe if you want it hotter. Whether you choose to make it mild or hot it's definitely more-ish. The secret's in the unexpected ingredients like cinnamon and dark chocolate.
Extra Benefits
Dark chocolate and cinnamon are antioxidant powerhouses, anti-inflammatory, and help to keep blood sugar levels balanced. This curbs insulin resistance which can lead to fat storage which is why we're particular fans in 40+ land.
The recipe is super easy to make and there's plenty of it so you can easily put some serves in the freezer to have on standby. Plus it's rich in fibre and protein, vegan/vegetarian, dairy-free and gluten-free.
Change It Up
Out of black beans? Improvise with another can of kidney beans. Don't have carrots? No problem, simply swap them for another veggie. Want to use up your wilted spinach? Throw it in. It just adds to the flavourful goodness.
For an extra taste sensation garnish with guacamole or diced avocado and a few coriander leaves. We didn't have any coriander in the Youology bubble so we used the goodness of rosemary. You could even add some seed crackers or tortilla chips for crunch. It's also deliciously good wrapped in lettuce leaves like a vegan taco.
Bon appetit!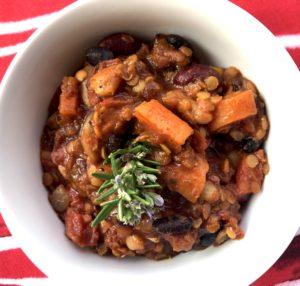 Ingredients:
2 tbsp

 extra virgin olive oil

1

medium brown onion, chopped

3

 cloves garlic, pressed or finely chopped
1 finely chopped red chilli (or substitute chilli powder)

2 tsp

 ground cumin

1/2 tsp

 dried oregano
1 tbsp of smoked paprika

1/4 tsp

 ground cinnamon

1

red capsicum, chopped

2

 medium carrots, grated or finely chopped

2

400g can crushed or diced tomatoes

1 400g

can black beans, rinsed and drained

1

400g can red kidney beans, rinsed and drained

1

400g can chickpeas, rinsed and drained

2 cup

s veggie broth
Optional: Approximately six squares of dark 70%+ chocolate.
Garnish:
2 tbsp

 chopped fresh coriander (or herb of choice)
Freshly ground salt and pepper
Sliced avocado or guacamole
Method:
Heat the olive oil in a large pan (we used a deep dish frypan/wok).
Saute the onion on medium heat until they are soft.
Add the garlic, chilli and dry spices. Cook on low as you don't want to burn them.
Drop in the chopped/grated vegetables and toss quickly until they are coated.
Cook for a minute or two before adding tomatoes, beans, and stock.
Bring to the boil then lower to simmer for an hour checking at 30 minutes.
There it is. Easy-peasy-lemon-squeezy! 🤣🤣🤣
 Thanks for stopping by,
Yours in health & happiness 🌸